Ace Decade is the nephew of the owner of Music Studio. Ace Decade is disloyal, sneaky, jealous and conniving. Decade was smuggling records out of the studio in trash cans in order to sell them for personal profit. When a music writer, Tony Symes, realized his actions, Ace disguised himself as the Phantom and kidnapped Signs, locking him in a cupboard in the cafeteria. Decade attempted to mislead the gang whilst they attempted to solve the mystery, leading them to a tape recorder wired to the intercom in his office in order to give the appearance he was being framed. However, Signs left a clue which was his ultimate downfall; his last piece of music spelled the culprit's name in the first three bars: ACE DEC ADE.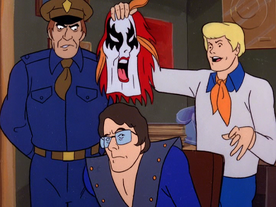 Ad blocker interference detected!
Wikia is a free-to-use site that makes money from advertising. We have a modified experience for viewers using ad blockers

Wikia is not accessible if you've made further modifications. Remove the custom ad blocker rule(s) and the page will load as expected.