Archambault was a French strongman for the Brancusi Circus.
Appearance
Edit
He is big and muscular, with a bald head and brown mustache.
Personality
Edit
He is proud of his strength, and constantly refers to himself in third person.
He conspired with Whitney Doubleday to carry out jewel robberies, using werewolf-disguised baboons, and later turned against Doubleday when the latter was caught, knocking him out with a tranquilizer dart so he could make off with the loot.
Appearances
Edit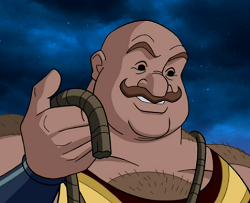 Ad blocker interference detected!
Wikia is a free-to-use site that makes money from advertising. We have a modified experience for viewers using ad blockers

Wikia is not accessible if you've made further modifications. Remove the custom ad blocker rule(s) and the page will load as expected.