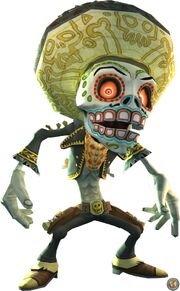 El
Scooby Doo!
ryachi is a monster from Scooby-Doo! and the Spooky Swamp he is the boss of El Muncho
Appearance
Edit
El Scaryachi is a large Day of the Dead-type skeleton wearing cowboy clothes and a large sombrero with points on the rim in a manner similar to a crown
"Scaryachi" is a play on mariachi, a Mexican type of music
The background music playing during the chase with El Scaryachi is a remix of "El Cucaracha"