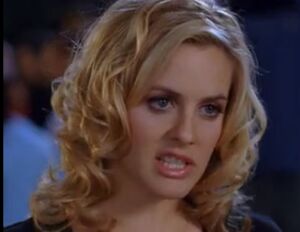 Heather Jasper Howe is a villainess from Scooby-Doo 2: Monsters Unleashed. She is a reporter who first appeared early in the film at a red-carpet event, proudly introducing Mysteries Inc., who are now celebrities due to the events in the previous film. Heather turned heel later in the film when she launched a smear campaign against the group after a robbery at a museum. She attempted to make Fred look inept in an interview after the robbery (she succeeded), and later on, the evil Heather decided to belittle Daphne and question her role in the group. She later appeared on TV and begged Mysteries Inc to turn themselves in for the crimes, but in the end of the film, Heather was revealed to be the Evil Masked Figure behind the events, when she was unmasked by Velma. In a shocking twist, Heather was actually a disguise for the true culprit, Dr. Jonathan Jacobo, who plotted revenge against the group.
Ad blocker interference detected!
Wikia is a free-to-use site that makes money from advertising. We have a modified experience for viewers using ad blockers

Wikia is not accessible if you've made further modifications. Remove the custom ad blocker rule(s) and the page will load as expected.