The Manticore was the disguise of Hot Dog Water .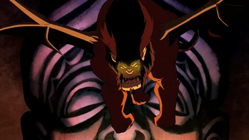 Appearance
Edit
The manticore is a winged lion with an ugly human's face, and a scorpian's tail.
The manticore was able to fly, and it was very strong too.
The manticore was created so Hot Dog Water could be rich. Winslow Fleach, Hot Dog Water's father, was a suspect. 
Appearances
Edit
'21:' Menace of the Manticore
Ad blocker interference detected!
Wikia is a free-to-use site that makes money from advertising. We have a modified experience for viewers using ad blockers

Wikia is not accessible if you've made further modifications. Remove the custom ad blocker rule(s) and the page will load as expected.