Marcy Fleach, better known as "Hot Dog Water", because she smells of hot dog water, is a friend and former rival of Velma Dinkley .
She has competed in some Science Fairs along with Velma, and loses them all.
She went to China. (The Dragon's Secret)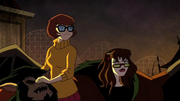 She attacked people at Creepy Spooky Terror Land in the guise of the Manticore, in order to be rich. (Menace of the Manticore).
She brefriended Velma and worked for Mr. E, and  become a replacement for Daphne. (House of the Nightmare Witch) 
She then tried to steal the Planispheric Disk by dressing up as Dark Lilith. Velma only knew Dark Liltith's true identity. (Night on Haunted Mountain)
Mystery Inc. hired her to steal the original Mystery Inc.'s pieces of the planispheric disk. (Wrath of the Krampus)
She was killed by the Kriegstaffebots. (Through the Curtain)
She was alive in the new universe. (Come Undone)
Appearances
Edit
28: House of the Nightmare Witch
29: The Night the Clown Cried II-Tears of Doom!
31: The Hodag of Horror (episode)
Come Undone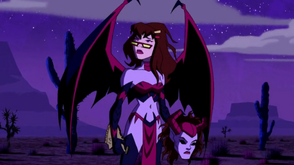 Ad blocker interference detected!
Wikia is a free-to-use site that makes money from advertising. We have a modified experience for viewers using ad blockers

Wikia is not accessible if you've made further modifications. Remove the custom ad blocker rule(s) and the page will load as expected.