​Mitchell Simmons
​was a gas station attendant at A Lil' Gas-E. He had been turned down by Elias Kingston University, so he scared all the other students away by dressing up in the guise of the Ghost of Elias Kingston. His father, Joe, who had been head of security at the university for fifteen years, was also angered by this, and helped him get his revenge. During this time he had got a job at A Lil' Gas-E.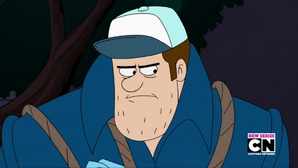 Ad blocker interference detected!
Wikia is a free-to-use site that makes money from advertising. We have a modified experience for viewers using ad blockers

Wikia is not accessible if you've made further modifications. Remove the custom ad blocker rule(s) and the page will load as expected.