The Moon Monster was the disguise of Kim Chow Ling's uncle, Chin Wong Sing, hoping to scare Kim away so that he could get his fortune. The Moon Monster was slightly blue and glowed from luminescent powder used by Uncle Chin. It also had horns and fangs. The Moon Monster was noted to roar at people and did not have much of a personality. The Moon Monster was supposedly able to turn those his shadow fell upon to stone. The monster was supposed to be able to turn people to stone when his shadow fell upon them. However, the only person this happened to was Uncle Chin, who replaced himself with a look-alike statue. Velma Dinkley realized this when she found grease marks behind the statue. He tried to get Kim to throw the fortune into the bay to relieve the curse. A current carried everything in the bay to a secret cave. Here he planned to retrieve the treasure. The gang caught the monster in the act. However, it still managed to chase them until Scooby-Doo and Shaggy Rogers pulled up the bridge it was standing on, launching the Moon Monster into the bay, where he was unmasked.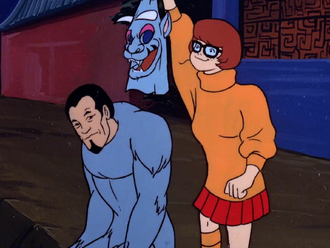 Ad blocker interference detected!
Wikia is a free-to-use site that makes money from advertising. We have a modified experience for viewers using ad blockers

Wikia is not accessible if you've made further modifications. Remove the custom ad blocker rule(s) and the page will load as expected.