Officer Wembley works for the security department of a university. He takes his job as a security at the university very seriously, claiming he's "an officer of the law, well, sort of". He was initially very suspicious of the Scooby gang, believing that when they were out looking for clues, they were causing trouble. It seemed at first that he very much disliked them. However, when they were transported into the Scooby game and he was told that they would have to play through all the levels to get out, he was genuinely concerned for their safety. He arrested Bill McLemore when he was revealed to be the culprit.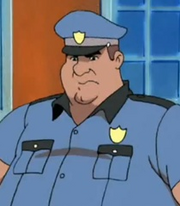 Ad blocker interference detected!
Wikia is a free-to-use site that makes money from advertising. We have a modified experience for viewers using ad blockers

Wikia is not accessible if you've made further modifications. Remove the custom ad blocker rule(s) and the page will load as expected.