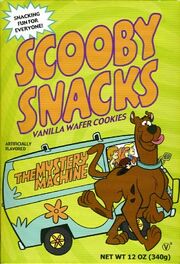 Scooby Snacks
(Scooby Snax) are a fictional food item. They are used as a form of incentive payment for the cartoon characters
Scooby-Doo
and
Shaggy
from the
Hanna-Barbera
series
Scooby-Doo
and its various spin-offs. College-age fans of the series have long maintained that, given the attraction they hold for Shaggy (a blatant hipster-stoner type), Scooby snacks are actually a metaphor for cannabis. Producer
William Hanna
had always imagined that a
Scooby Snack
would taste like some sort of a caramel-flavored cookie. He and
Joseph Barbera
had previously used the concept of a dog that goes wild for doggie treats in the
Quick Draw McGraw
series in 1959.

Warner Bros. licensed Scooby Snacks as both an official brand of doggie treats and as a human-consumable cookie snack. Vanilla wafers, similar to Nilla Wafers were packaged and sold as Scooby Snacks in Suncoast home video stores.

In Scooby-Doo! The Mystery Begins it is revealed that Shaggy made up the recipe which includes sugar, flour, dog kibble for texture, and other ingredients.

The official brand of dog treats is made by Snausages, a product of Del Monte Foods.