The
Sea Beast of the Aztecs
was the disguise of
Tiger Morris
. He was entirely green, with a long tail. He also had spikes on his elbows. He terrorized a cliff diving competition at Acapulco, Mexico. After Tiger faked his own disappearance, he continued to chase off Mystery-Inc., who attended the contest, as the Sea Beast. He was eventually captured and unmasked.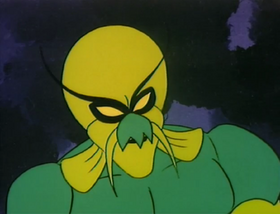 Ad blocker interference detected!
Wikia is a free-to-use site that makes money from advertising. We have a modified experience for viewers using ad blockers

Wikia is not accessible if you've made further modifications. Remove the custom ad blocker rule(s) and the page will load as expected.