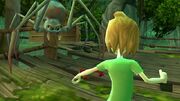 Spiders are real monsters in Scooby-Doo! First Frights and Scooby-Doo! and the Spooky Swamp.
Appearance
Edit
It looks like an overgrown spider.
Description
Edit
The spiders are located at Keystone Castle in First Frights, and everywhere in The Spooky Swamp. They are easy to defeat.
In First Frights, spiders are playable.
Appearances
Edit
Ad blocker interference detected!
Wikia is a free-to-use site that makes money from advertising. We have a modified experience for viewers using ad blockers

Wikia is not accessible if you've made further modifications. Remove the custom ad blocker rule(s) and the page will load as expected.