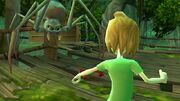 Spiders are real monsters in Scooby-Doo! First Frights and Scooby-Doo! and the Spooky Swamp.
Appearance
Edit
It looks like an overgrown spider.
Description
Edit
The spiders are located at Keystone Castle in First Frights, and everywhere in The Spooky Swamp. They are easy to defeat.
In First Frights, spiders are playable.
Appearances
Edit